Professional Chair Caning, Refinishing,
& Restoration

Serving Staunton, Waynesboro, Verona, & Charlottesville, VA

Frustrated because you can't find a professional caner?
Searching everywhere for weaving supplies without success?
Welcome to Higgins Chair Caning!
we repair, refinish, and restore woven chairs
so that you keep a piece of your past alive,
while also using it in your daily living.
Plus, we sell and ship caning supplies.
---
Learn Your Weaving Options
Tailor Chair for Your Use
Get A Care Sheet to Keep It Looking Great!
Restore Your Prized Possessions!
Bring them back to their original design and make them part of your every day living.
Rockers...Chairs...Footstools...Wicker...
And More!
At Higgins Chair Caning, we know that woven chairs, antique or contemporary, are an integral part of your personal history and family memories.
It's sad and frustrating to watch a caned chair you love slowly deteriorate simply because you can't find a professional caner to do the work.
We don't think you should ever have to watch your caned chair and all those wonderful memories slowly crumble away!
As a professional caner of 25 years and a proud member of The SeatWeavers Guild, Inc., My team and I proudly stand behind our work. Preserve your memories and enjoy a functional piece of furniture in your everyday life!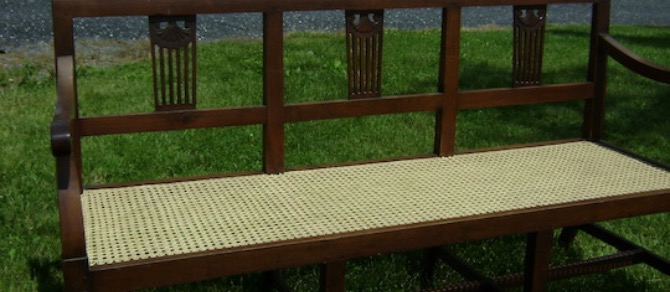 Email Me
Send us a picture.

Bring Item
Bring your item into the shop. We'll talk about what's needed.

Enjoy!
Love & use your preserved treasures. Keep memories alive!

Stop letting your caned chairs and old furniture--and all of those wonderful memories--slowly deteriorate, never to be enjoyed again. Keep a piece of the past with you. Enjoy it as part of your everyday life. Then pass it down to future generations!
#2-Get a tailored solution

#3-Love your re-caned chair or restored furniture!

Yes, we do furniture restoration, too!
Danish Cord & Wicker Restoration
Howard's Products offered for sale
Period Hardware-Reproduction & Salvaged
"I can't explain how happy I was when I saw the beautiful stool. I thought it had gone to the dump never to be seen again...It holds such beautiful memories of my childhood. Thank you again from the bottom of my heart." Susan Jacobs